Shopping Cart
Your Cart is Empty
There was an error with PayPal
Click here to try again
Thank you for your business!
You should be receiving an order confirmation from Paypal shortly.
Exit Shopping Cart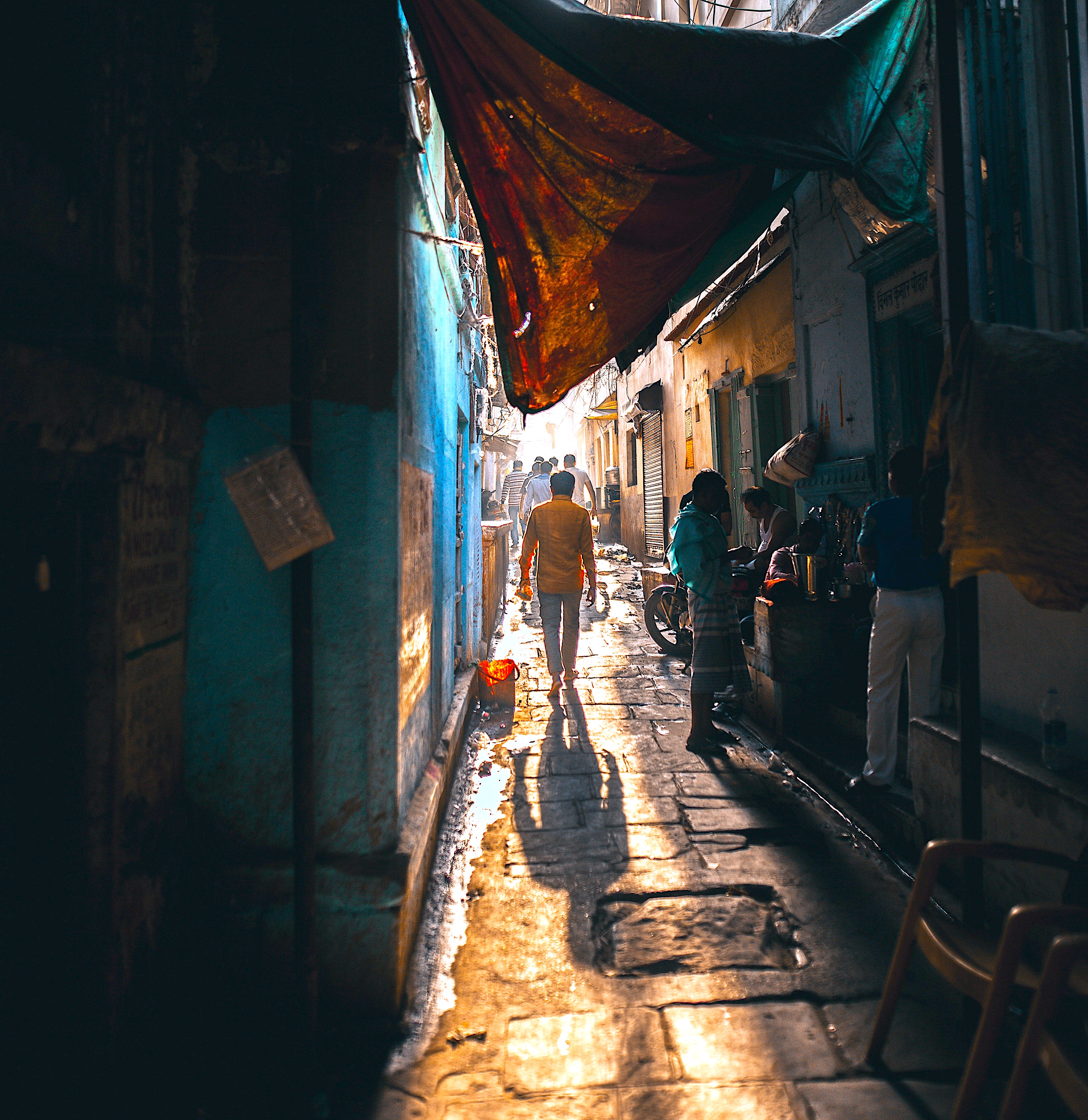 Later today I leave Chiang Mai to Kolkata and then a few days to explore before onto Varanasi. A 'road-trip' with my brother Conrad that we never actually got to take in the physical realm, but an important life, death and liberation adventure nonetheless.
I will not lie, I am nervous and even apprehensive, but to be honest I'm like that with any trip, like a bear who's snug in his cave. The first light of spring hits his eyes and he realises it's time to venture out into the fresh light air and melting snow. Like me he'd rather stay safe in his man/bear cave and scratch…and write.
Three Adventures in India.
I have previously taken two other trips to India that I can see now in hindsight were preparation (along with the many other experiences in my life) for this momentous trip. I vowed to never return to India after my last experience and yet I always knew there would be a third.
As much as I love the country, the people, the culture as well as of course their amazing gift to the world of yoga, my experiences were extreme (as I'm sure everyone's touch with the continent is) and twice I teetered between life and what felt like death, slipping into the underworld and returning bruised battered but triumphant. Conrad had other plans for me and this third trip is all part of the divine and also his plan I'm sure, a spiritual pilgrimage.
Conrad himself had visited India on three occasions himself, including the Sivananda and Amma ashrams, plus longer trips to immerse himself in his yoga practice and the ancient culture.
He was planning a fourth short trip in May 2018, in the holiday break from the school he was teaching English at in Phuket, Thailand, it was a kind of reconnasence trip for his future, I'll tell you about that in a miniute. The computer screen on his laptop the morning he was found in his condo, was open at a travel bookings page, with a recently confirmed hotel stay in Varanasi.
I'll most defintley take him to that hotel, hidden in a lovely bag befitting for a high-end establishment and have afternoon tea with him over the Ganges. The staff and other guests will be non-the-wiser and we can have a good laugh about the fact.
I think laughter will be one of the themes to the pilgrimage we're on together, one of the many strong bonds between us and an essential part of who both Conrad and I are. Contrasting I'm sure there will be the sadhana involved around the death and moksha transformation, so prevalent in the city. Plus the moment by moment daily practice of presence, awareness and to surrender to India's energy, and open to the gift of light.
Hmmm, let's see how it unfolds.
Calcutta/Kolkata: On The Edge - 3 + 3 = 33
I arrive in Kolkata early tomorrow morning (tuesday) and will spend around a week there. I could just transit and continue on but I have history in the city, as 33 years ago I was also in Kolkata and it was the beginning of my teacher/ pupil realtionship with India, Hindu culture and I'm sure a karmic link and I have with the energy there. All those years ago I visited the home city of a friend as his guest, and the hospitality of him and his family after I'd met him in London not long after her immigrated to the UK.
The heat and extreme cultural differences of the city with 80's Leeds and London will always stay with me and although I had a fantastic first few weeks, at the end of my month trip I became physically very ill. Diagnosed with Malaria, though I never felt that was right, I was taken close to death and even said my prayers to the one's I loved back in the safety of my tiny existance back in England.
In the musty and dark colonial style hotel room I instinctively knew, even before my yoga journey, to let go, surrender, maybe the sound of my travelmate and his high-school chum in the bathroom getting up to 'monkey business' made the warped and surreal space I inhabited, both blazing temperature and wracked with shivers, both funny, human and 'WTF transcendental' and I slipped into an altered state of the unknown.
The panicked question of 'what was to come of me after I die?' not even 20 years of age, rose from the fever, is there anything on the other side except the fumbled orgasmic sounds coming from the ensuite?
So Far Into The Yin and Out Into The Yang.
As I awoke and wasn't sure if I was dead or alive as I was being sung to by the older brother of my travelling companion who like the whole Anglo-Indian family (my friend had been born in Varanasi and moved to Calcutta as it was then, so stragley bring things full circle). The older brother's voice joined with a high-pitched female voice (a famous playback singer in Bengal) yearning for a lost love wafting in through an open window.
I was given the Hindi-English translation, line by line, he had apparently sat on the edge of the bed and not moved, since I'd been brought from the hotel room to their family home. All were deeply concerned for me, though he had kept vigil. I had never met him or the family before, they were wonderfully kind and his gift of presence was one of the positive memories of that time.
His voice and the playback singer's felt like they were literally lulling me back to life, drawing me from the previous few days of nothingness and what could have been my last memories of this incarnation of grunts and giggles coming from the bathroom but had kept me from slipping too deep. I'm sure I had surrendered so deeply, deep into the Yin, so deep in fact that I'd popped out into the centre of the Yang, the teenage love making and melancholic singing voices called to guide me through and the sunlight hit my face and I knew I was alive.
Kerala: Another Precipice to Dive Deep into the Underworld.
My second trip to India was much less romantic and during my trip to Kerala in 2010 and I fell deeply into a state of paranoia, the last week passed with sheer terror and almost demoic fear, feelings of being killed or worse imprisoned were projected out onto the surrounding community and it took all my strength to get myself on a plane and back to the UK. I recognised these as childhood fears, and the backdrop of India held another karmic lesson, this time a psychological death and re-birth, rather than that of a physical transofrmation in Kolkata, but those stories are for another time.
My Journey Interwoven With Conrad's.
Athough I had many conversations with Conrad about 'the end,' in the confusion of the first few days of his death I panicked, unsure of what to do to honour his life. When I was told that he had been planning a trip to Varanasi I remembered our talks of death and Moksha in Varanasi and a return to the source via the Ganges.
His plan was to live as a monk by the time he was sixty, live and teach in India, make his way to Varanasi to plan for a conscious death and to become a part of the great energy there and finally cast into the river. All these conversations occurred between belly laughing at Victoria Wood sketches and affectionate WTF's at Madonna's unfortunate 'Bo Selecta' plastic surgery adventures — it's all about balance.
Surrender to The Journey And The Power of Varanasi.
I've embraced the fact that this is my role now, at the juncture of both of our lives and a part of the continuing revelation of my dharma, to join with him for one last adventure. To fulfil his wishes and who knows what my third lesson in India will be, I have a feeling this time it will be to feel the love, joy and light of all the incarnations of this human experience.
I will be in India for the month of December into that first week of January, to the first new moon and eclipse in Capricorn. In Varanasi I will immerse myself in the millennia of rituals, practices and yantra energies imbimbed in the land and 72,000 temples, ancient traditions passed down for centruties and as the time comes I will be in the perfect space to…well that I don't really know yet, that will unfold and I can share this when I know. My feeling is I will be shown somehow and I will 'know' how to do what needs to be done for his new beginning and mine also, the brotherly gifts we can give to each other.
Here Sadhguru talks about the amazing properties and history of the ancient city Kashi otherwise known as Varanasi (or Banares) and explains why Conrad and I were so drawn to the city on the banks of the Ganges.
http://https://www.youtube.com/watch?v=963Le1wSJOU&t=3s
Answers…And More Questions.
Varanasi holds the answer, for us both, and I'm sure for me many more questions, the process will continue and somehow I will be re-united with him for a major transformative adventure and we will be rewarded, of that I'm sure, with what, that is still a mystery.
Namaste.
Categories: None
/